puppies past and present – and  plans for future litters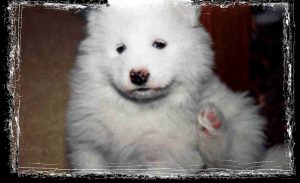 The emphasis of the Gandale breeding program is quality, not quantity. Litters are carefully planned, and I have litters only occasionally and normally only when I want to add another Samoyed to my home.
Puppies are born and raised in the house, and spend their first weeks in the living room surrounded by people, household noise and all the hustle and bustle they need to become well socialized. Puppy homes are selected very carefully, and showing puppies, although desirable, is not stressed. Instead, I look for quality family homes where the puppy will have a lifetime of love and excellent care and training.
Anyone  interested in a puppy from any breeder should check the following resources before making a commitment:
Planned breedings and current litters
We are pleased to announce the birth of a litter – a bit premature – on January 20, 2022.  Mom, 3 girls and 4 boys are doing well.  Puppies are all doing well in their new homes, and no new litters are currently being planned.
If you are interested in a Gandale puppy in the future, please note the following:

All puppies are registered with the Canadian Kennel Club, and puppies going to new homes are typically placed on a non-breeding contract.
Parents of puppies have been fully vetted for heath, received all appropriate vaccinations, and health check results are posted on the Orthopedic Foundation for Animals web site.  Anyone looking for a puppy from any breeder is encouraged to do an advanced search on this site to check for health test results.
Neutering or spaying of puppies is strongly discouraged (there are many studies that indicate potential negative health effects on dogs) but if it is necessary, surgery should not take place until the puppy is two years of age and fully physically mature.
Puppies and adults must be members of the family and welcome in your home.  Samoyeds, although physically able to be outside in all types of weather, are at heart people dogs and need to be part of your daily life.
All those interested in a puppy are required to complete a Puppy Application/Questionnaire.  This will take you some time, and you may feel that some of the questions are a bit personal, but we need this information to match you with a puppy and ensure that our puppies go to the best possible homes.  Filling out the application does not guarantee a puppy, but you definitely will not be eligible for a puppy without submitting the form.
If you are successful in your application for a puppy, a deposit will be required.  This deposit will be refunded by Gandale Samoyeds in the event that, for whatever reason, a puppy is not available.
Before you receive your puppy, you will need to sign a contract that outlines responsibilities of both the breeder and the purchaser as well as cost, veterinary care records and future veterinary care requirements.
We should be your first resource of information, along with your veterinarian.
If you have questions at any time, please feel free to contact us at samoyeds@gandale.ca.