puppies past and present – and  plans for future litters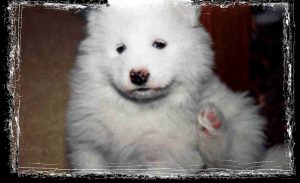 The emphasis of the Gandale breeding program is quality, not quantity. Litters are carefully planned, and I have litters only occasionally and only when I want to add another Samoyed to my home.
Puppies are born and raised in the house, and spend their first weeks in the living room surrounded by people, household noise and all the hustle and bustle they need to become well socialized. Puppy homes are selected very carefully, and showing puppies, although desirable, is not stressed. Instead, I look for quality family homes where the puppy will have a lifetime of love and excellent care and training.
Planned breedings and current litters – we have no litters planned for the current year

More puppy pics from past litters, just in case you need a cute and fuzzy fix!